Trade-In Evaluation | Vance Motors Bancroft, Ontario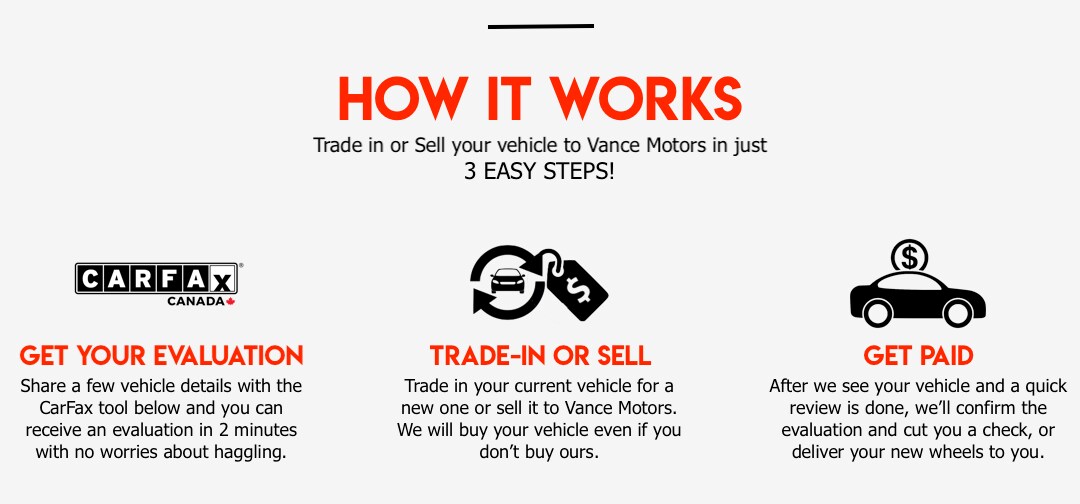 What can I expect during my appointment?
When you arrive to Vance Motors at 94 Hastings St. N., Bancroft Ontario, please come inside and let us know that you are here for an appraisal.
Masks are optional, but feel free to wear one. Hand sanitizing stations are strategically located around the dealership.
You will observe your vehicle's appraisal.
Appraisals may be contingent on verifying the vehicle's mechanical condition with a test drive and/or review of the cosmetic condition of the vehicle.  
If you decide to sell us your vehicle, you can leave with payment in hand.  If you decide to trade in your vehicle, we will add the appraisal value to your new vehicle deal.
Can I sell my vehicle to Vance Motors without buying a vehicle from Vance Motors?
Yes, you can sell your vehicle to us without purchasing one of our vehicles.  The appraisal of your vehicle does not change whether you choose to buy from us or not.  However, there is a tax savings incentive to trading in your vehicle.
Do I need an appointment to sell my vehicle?
Yes, please make an appointment by contacting by PHONE at 613-332-1410 or 1-800-55-VANCE (82623), E-MAIL at msauter@vancemotors.com, or TEXT at 613-318-9949.
What do I need to sell my vehicle?
​Please bring your original ownership, driver's license, both sets of keys, owners manual, touch up paint, and extra accessories (ex. Soft top for Jeep Wrangler, Tonneau cover, etc.)
How does Vance Motors decide how much my vehicle is worth?
​A qualified appraiser will take your vehicle's year, make, model, mileage, vehicle history report, and cosmetic condition and compare your vehicle to current market conditions.  The appraiser will review the condition of your vehicle inside and out by looking for major defects like dents, scratches, dings, frame or flood damage.  A test drive may be required to confirm if repairs will be needed.  If repairs are needed, your evaluation may adjust accordingly.  
How do I get paid for my vehicle?
​You will leave with payment in hand the same day as your appraisal if you choose to sell us your vehicle.  We pay with cheque for the full amount of the vehicle evaluation.  If there is money stilled owed on the vehicle loan, the amount will be deducted from the appraisal.
What if I owe more on my vehicle than the amount of your evaluation?
​If what you owe on your vehicle is more than the Vance Motors evaluation, the difference is called 'negative equity'.  If you choose to Sell Us your vehicle, the negative equity will be deducted from your cheque.  If you choose to Trade In your vehicle, the negative equity will be included in your new car financing or you may choose to pay it directly to Vance Motors.
Does Vance Motors buy leased vehicles?
​Yes, Vance Motors can buy leased vehicles.  We will evaluate the vehicle and then contact the leasing company for a payoff quote and process any equity you may have.  Be aware that your leasing company may not allow you to sell your vehicle before your lease agreement expires and the vehicle may not be eligible for trade-in tax savings.